Join our active Facebook group to get more resources and answers to your burning questions.
Where to Find a Marketing Advisor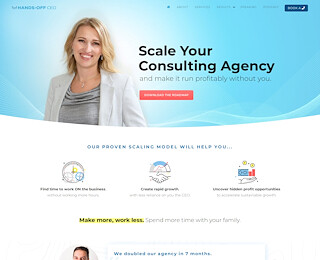 When it comes to finding a marketing advisor, it's important to remember that no two advisors are created equal. Each advisor brings a unique set of skills, experience, and expertise to the table, and it's up to the client to do their research and find the right fit for their business.
Choosing the right marketing advisor can make a huge difference in the success of your marketing efforts, so it's worth taking the time to do proper research and make an informed decision. By understanding your needs, researching potential advisors, evaluating credentials and communication styles, and getting references, you can find a marketing advisor who will be a valuable asset to your business.
How & Where to Find a Marketing Advisor
Determine your needs: Before you start looking for a marketing advisor, it's important to have a clear understanding of what you need. Do you need help with branding, social media marketing, email marketing, or something else? Knowing your needs will help you narrow down your search and find someone who is well-suited to your business.
Research potential advisors: Once you know what you need, start doing your research. Look for advisors who have experience in your industry or with the specific type of marketing you need help with. Check out their websites and social media profiles to learn more about their work and approach. You can also ask for recommendations from other business owners or industry professionals.
Look for credentials: Marketing advisors should have a strong track record of success and be well-versed in the latest marketing trends and techniques. Look for advisors who have relevant certifications or degrees, or who have received industry recognition for their work.
Evaluate communication style: It's important to work with a marketing advisor who you feel comfortable communicating with. Look for advisors who are responsive and easy to reach, and who are willing to take the time to listen to your needs and concerns.
Consider cost: Marketing advisors come with a range of price points, so it's important to find someone who fits within your budget. Don't be afraid to negotiate or ask for a customized package to meet your needs and budget.
Get references: Before making a decision, be sure to ask for references from the advisors you are considering. Talk to their past clients to get a sense of their work style and the results they have achieved.
Trust your gut: Ultimately, the most important factor in finding the right marketing advisor is finding someone you feel comfortable working with. Trust your instincts and choose an advisor who you feel confident will help your business grow and succeed.
In conclusion, hiring a marketing advisor can be a valuable investment for any business. A skilled and experienced marketing advisor can help you develop a solid marketing strategy, identify new opportunities, and increase the visibility and success of your business.
If you're ready to take the next step in growing your business, don't hesitate to reach out to us. Our team of marketing advisors is here to help you succeed. Contact us today to learn more about how we can help you achieve your marketing goals.